Como visitar el Nido de Quetzalcóatl costos y horarios en 2022
OJO. No existen visitas actualmente.
Empecemos por lo principal: Historia del Nido de Quetzalcoatl.
El arquitecto del Nido de Quetzalcoatl es mexicano, Javier Senosiain; le entregaron un terreno muy dañado donde tenía que hacer una construcción con 10 casas.
Tenía que conservar el 98% de la vegetación de este lugar. Fue entonces que imaginó una gran serpiente que cruzaba por este gran terreno.
Quetzalcóatl: es uno de los principales dioses aztecas de la época prehispánica de México. Este nombre proviene del idioma náhuatl, que significa serpiente emplumada.
Hay un dicho mexicano que dice "no hay malos terrenos", pero cuando vieron el terreno, entendieron por qué no se había vendido antes. En este terreno, alberga cuevas y una abundante fauna. Fue difícil construir esta obra de arte, frente a la diferencia de niveles que tenía el subsuelo. Ciertas partes llegaba hasta los 20 metros. 
Después de mucho terreno y mucho tiempo…
El trabajo compuesto por el material favorito de Javier, el velo de hormigón, se extendió en 180 metros de largo y 20 metros de altura, evitando las características de los árboles en el sitio.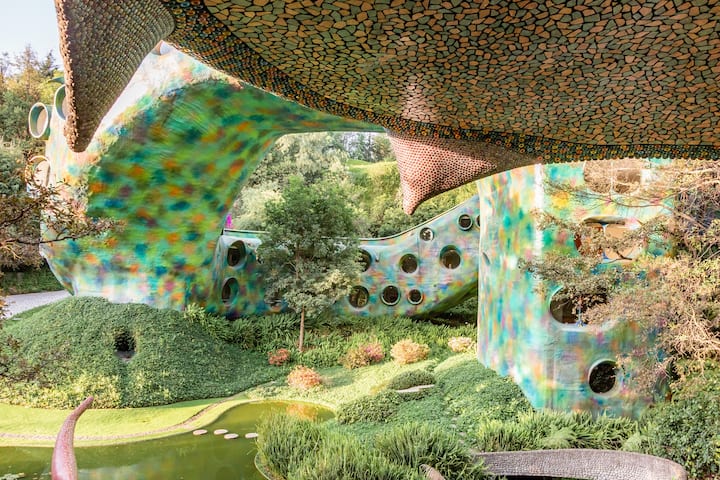 Esta compuesto por 10 casas, cada casa tiene su propia entrada y  diferentes panoramas de la naturaleza. También se han construido juegos para niños y adultos para apreciar la naturaleza al máximo.
.
La idea de la serpiente, contrariamente a lo que uno podría pensar, entró en construcción para engrandecer el arte y el color junto con la botánica mexicana.
Gracias a las cuevas implantadas en el suelo, fue posible integrar una cabeza de serpiente en la naturaleza, que parece casi real.
La idea era preservar la vegetación, Javier tomó en cuenta todos los elementos para no tener que cortar ningún árbol. La serpiente, con sus formas redondas y fluidas, resultó ser el animal apropiado para este tipo de construcción. El nido de Quetzalcoatl tour.
.
Fotos e imágenes del Nido de Quetzalcoatl.
Fotos por Airbnb: Nido de Quetzalcoatl
---
Nido de Quetzalcoatl precio, costos y horarios: cómo reservar por Airbnb.
Para entrar a este gran lugar, debes hacer una reservación que cuesta al rededor de $7,000 pesos la noche aproximadamente. Durante el hospedaje dentro del Nido no tendrás que preocuparte de nada, ya que está totalmente equipado, 5 habitaciones, 4 baños, sala, comedor, cocina, centro de lavado.
El alojamiento
No existe un lugar parecido, es considerado una obra de arte a nivel mundial. Es un lugar único, para descubrir, admirar y disfrutar cada espacio. Sorprendente gracias a su arquitectura orgánica por fuera y sencillo y armonioso por dentro.
Cada ventana es un cuadro que no delimita la naturaleza, moderno y con un suave y cálido trato por parte de su anfitriona.
Ideal para meditación, caminatas, yoga, escritura y creatividad, pintura, amantes de la naturaleza, silencio. Un paraíso en la ciudad.
Acceso para huéspedes
Hay 5 recamaras por si quisieran hospedarse 6 personas. Cuenta con servicio de limpieza incluido, pero es limitado a un horario. Además la administración te deja pan, fruta y café o té como cortesía.
Otros aspectos destacables del hotel serpiente México 
Por ser un lugar boscoso es más fresco que en la ciudad. Se sugiere uso de ropa abrigadora y zapatos cómodos.
Igualmente es posible que haya insectos fuera y traten de entrar. Se mantiene limpio y se evitan.
Servicios
Estacionamiento gratuito en las instalaciones
Calefacción
Wifi
Cocina
Televisión por cable
Secadora
Lavadora
Zona para trabajar con computadora portátil
Política de cancelación
---
¿Cómo reservar el Nido de Quetzalcoatl Airbnb?
Alquila un depa a través de Airbnb. El Nido de Quetzalcóatl también es una casa que puedes rentar por un mínimo de 2 noches. Aunque no es una opción económica, si alquilas el Airbnb entre 6 amigos (máximo número permitido de inquilinos) te puede salir a buen precio.
Además, rentar el Airbnb incluye una visita guiada al Nido y libre acceso al parque Quetzalcóatl costo incluido.
Estas son otras formas de ir al Nido ordenadas de menor a mayor dificultad:
| | |
| --- | --- |
| 1 | Renta el Airbnb aquí  |
| 2 | Intenta reservar por teléfono o email con el objetivo de tu visita. (Quizás tengas suerte) |
| 3 | Intenta ir sin reservación (aunque seguramente no podrás pasar, ya que es un lugar privado). |
| | |
OJO. No existen visitas actualmente.
foto: @theaexperience
Al ser un lugar boscoso es más fresco que la ciudad. Te sugerimos usar ropa abrigadora y zapatos cómodos. No hay transporte público hasta aquí, pero se puede llegar en taxi o auto propio o uber.
Dónde está
Bosques de los Naranjos, Naucalpan de Juárez, Estado de México.
Ya tienes claro el costo del Nido de Quetzalcóatl, horarios y precios; tienes todo listo para vivir una experiencia única.
El Nido de Quetzalcóatl: pasar la noche dentro del sueño de otra persona
Descubre con Be México la casa del Dios Quetzalcoatl "la serpiente emplumada", descubre sus jardines, su maravillosa arquitectura dentro del nido, en Naucalpan. 
Es una de las obras de arte más importante a nivel mundial creada por el arquitecto Javier Senosiain, el master de la arquitectura orgánica, creador también de El Hongo club, Casa Flor en el conjunto de Satelite.
Este místico lugar lleno de colores, te llenará de ganas para meditar, escribir, dar una larga caminata, leer un libro y claro tomarte fotos instagrameables. Desgraciadamente al ser un lugar privado, las visitas están controladas, pero por eso hemos diseñado este viaje a medida, por qué miles de personas como tú y yo queremos visitarlo.
Llena tus ojos de color y mucha naturaleza, desconéctate de toda el estrés de la ciudad en la obra de arte… el Nido de Quetzalcoatl 2022.
Todo el mundo quiere conocer el Nido de Quetzalcoatl, espero estos consejos te hayan sido de gran utilidad.
Espejos de agua, fuentes, puentes serpenteantes, jardines surrealistas, colores vivos… asómbrate en el Nido de Quetzalcóatl.
Los tours nido de quetzalcóatl actualmente no hay disponibles, la única forma es através del Airbnb.
Editorial Be México | Sirime Maillard
Summary
Article Name
Cómo visitar el Nido de Quetzalcóatl en 2022
Description
No existe un lugar parecido, es considerado una obra de arte a nivel mundial. Es un lugar único, para descubrir, admirar y disfrutar cada espacio. Sorprendente gracias a su arquitectura orgánica por fuera y sencillo y armonioso por dentro.
Author
Sirine Maillard
Publisher Name
Be México
Publisher Logo